The latest consumer price indices and inflation rate report released by the Kenya National Bureau of Statistics (KNBS) shows a worrying trend as housing, water, electricity, gas, and all other fuels recorded a significant spike.
Consumer price indices and inflation rates are generated from data collected through monthly surveys of retail prices that target a representative basket of household consumption goods and services.
"The Housing, Water, Electricity, Gas and Other Fuels' Index, increased by 0.59% between November and December 2020," reads an excerpt from the report
This was mainly attributed to increases of 0.76% and 2.08%, in the cost of electricity and kerosene, respectively.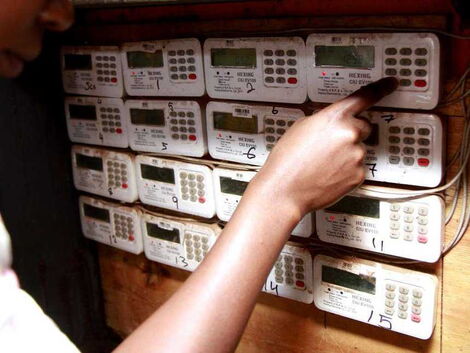 A customer keys in tokens in a prepaid electric meter.FILE
The Transport index increased by 1.15% over the same period mainly due to a rise in the retail prices of diesel and petrol by 1.20% and 0.92%, respectively.
On the other hand, the new KNBS report showed that farmers were banking millions by the end of 2020, with prices of items such as capsicum and spinach seeing prices grow 8-fold,
Kenya is still predominantly rural, but urbanizing rapidly. Today, 30% of Kenyans live in cities.
Data from the government statistician also shows a new trend among landlords in which most have now switched to building houses with fewer rooms, or one-roomed units in a bid to attract tenants faster.
Houses in the Kenyan capital are becoming smaller as the city adjusts to a fast-rising population coupled with the high cost of living.
In 2019, 3,940 one-room units were built in Nairobi, an 84% increase from the 2,135 developed in 2015," a section of the KNBS housing data for 2020 reads in part.
Plans approved by Nairobi City County between 2015 and 2019 were recorded as 288,638 with only 32,035 registered as non-residential buildings.
Nairobi is the most populous county in Kenya with 4,397,073 residents according to 2019 census data.
The population grew 40% in 10 years from 3,138,369 in 2009.
The Mercer 2020 Cost Of Living Survey ranked Nairobi among the top one hundred expensive cities in the world for expatriates to live in.
The survey covered the prices of over 200 items including food, alcohol and tobacco, domestic supplies, housing, clothing and footwear, home services, utilities, personal care, transportation, recreation, and entertainment.
With a huge population of job-seekers, many coming into the city from the rural areas, low-cost housing has been mooted by developers as the way to go
According to government estimates, Nairobi will be home to more than 14 million people by 2030.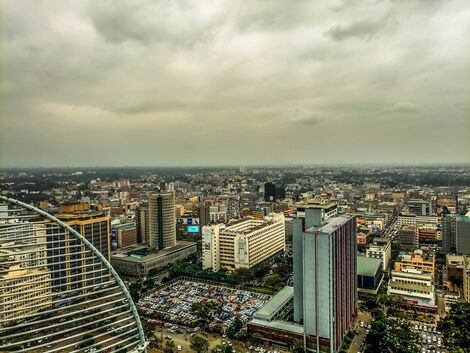 An aerial photo of Nairobi. PHOTO: EDDY MWANZA