Residents of Dalalekutuk ward in Kajiado County are set to wave goodbye to perennial water problems that have bedeviled them for years after the County Government commissioned a water project in the area.
The Oloontulugum water project jointly funded by the World Bank and the county government under the Kenya Climate Smart Agriculture Programme will serve more than 700 households, 3,500 heads of cattle and 9,000 goats and sheep.
The project has a reservoir 135,000 litres tank with the borehole yielding 2,2000 litres of water an hour.
Kajiado Governor Joseph Lenku while commissioning the project urged the local community to take advantage of the reliable supply of water to start farming projects which will generate income and improve the county's food basket.
Lenku said the project was solar powered and is integrated for livestock use, domestic use and irrigation. It has a water kiosk and two troughs for livestock use and an ablution block for use by farmers in the area.
"This is one-of-a-kind project that uses solar-powered technology and is effective in power-management costs. This area is fertile enough for horticultural farming. Let us embrace farming so that we can boost our food security," said the Governor.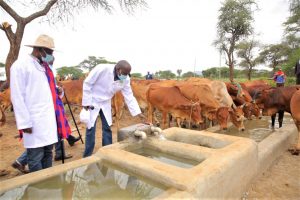 He noted that water scarcity is a major problem in Kajiado as the area is semi-arid and called on development partners and investors to partner with the county government in sinking boreholes and establishing other water supply projects so as to boost development in the area.
Lenku added that availability of water would improve resident's lives as they would now have time to engage in other development activities that will boost the county's economy.
The Governor was accompanied by Kajiado Assembly Speaker Johnson Osoi, County Secretary Samuel Seki, CECs Jackline Koin (Agriculture) and Michael Semera (Water) and Chief Officers Leacky Ritei (Livestock Development) and Moses Murrunya (Agriculture).
Dalalekutuk residents welcomed the project saying that they will no longer have to walk for many kilometers in search of water for their livestock and domestic use.
Rose Daudi, a mother of five, said she normally walks 8 kilometers with a baby on her back to fetch water for domestic use and the commissioning of the water project in the area was a welcome relief as she would save time.
Daudi said she will start a kitchen garden that will enable her to feed her family as she will easily have access to water for irrigation.
"I am so happy that we now have easy access to water. I normally walk 8 kilometers daily to look for water for cooking and for cows and goats and this is quite tiring and time wasting. At least now I will be able to even start a kitchen garden as we will easily get water for irrigation," she said.