For many years, Human-Wildlife conflict has been rampant in Kajiado as it is home to Amboseli National Park, several wildlife sanctuaries and parts of Tsavo and Nairobi National Parks.
Residents of Eng'aboli location in Kajiado central have devised ways to mitigate human wildlife conflict in the area by providing water points for the animals.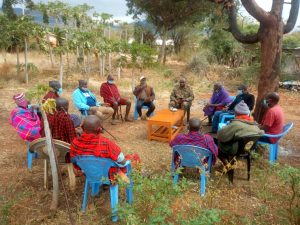 The residents who get water from boreholes and Oldonyio Orok mountain usually leave their water storage tanks ajar and create alternative routes for the animals to use so they can be able to access the water with ease especially jumbos that are common in the area.
"This has helped us in mitigating human-wildlife conflict as our farms and water pipes are not destroyed by the elephants as they come to seek for water," says Paul Suyianka, a resident in Eng'aboli.
While speaking at a human-wildlife conflict resolution committee meeting in the area, Kenya Wildlife Service Senior Warden Vincent Ongwae lauded the community for the good gesture.
Ongwae promised to provide the community with predator lights that will further aid them in wading off the wild animals at night so as to deter them from farms and their houses.
KWS will also provide the community with animal traps that will trap animals like the hyenas and leopards which mostly attack the homes during the rainy season.
Ongwae urged the community to continue coexisting in harmony with the wildlife as there are many benefits that come with it.
He said that many youths in the community can get jobs as hikers as the wildlife attracts tourists to the Oldonyio Orok Mountain as well as support from the KWS through Corporate Social Responsibility.
Ongwae further noted that compensation for water pans and water pipes destroyed by wildlife should be immediate as water is a necessity in the running of day to day life.
He revealed that KWS will deploy a patrol team that will work together with the community in ensuring the wildlife and residents coexist in harmony.
During the meeting, crop destruction, livestock predation and the increase of wildlife were noted as key problems facing the area.
The committee resolved to work together as a team for the benefit of all stakeholders.